Colossal Breakfast
Two eggs your way, hash browns, bacon, ham or sausage and toast
Colossal Breakfast Lite
Two eggs your way with grilled bread or a buttermilk biscuit. Add hash browns $4.00
Greek
Grilled marinated artichoke, spinach, green onion, feta and tomato
Scandinavian
House smoked trout, green onion, roasted potatoes and caper-dill cream cheese
Pork and bison sage gravy or wild mushroom gravy, homemade biscuit and two eggs your way.
Served on your choice of homemade buttermilk biscuit, grilled bread (honey whole wheat or sourdough), or in a flapper.
Egg, Provolone, and Sausage
Fried Egg, Fresh Tomato and Feta on Toast
Fried Egg, Prosciutto, Sun-dried Tomatoes and Swiss on Toast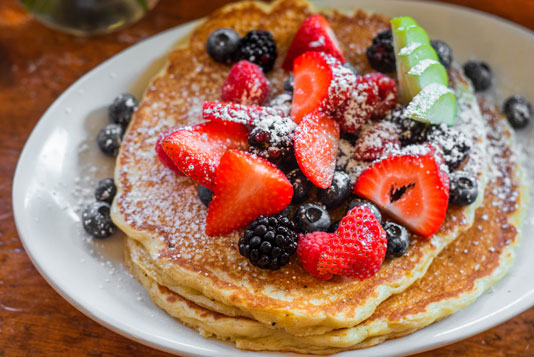 Our house specialty! Choose from either a yeast-based pancake served with butter and Three Rivers Farm pure maple syrup – or – topped with honey-brown sugar syrup, apples, walnuts and brie.
Full Stack with Fresh Fruit
Served in a bowl or wrapped in a flour tortilla – choose your own adventure!
Korean Beef
Bulgogi marinated flank steak, cilantro-lime rice, kimchi slaw, pickles ginger and a poached egg (scrambled if we wrap this up for you!)
Roasted Pork Shoulder
Braised pork shoulder, scrambled eggs, pickled red onion, queso fresco and roasted potatoes. Red and green salsas served on the side.
Vegan Chorizo
lime rice, roasted corn, sautéed red pepper and onion. Red and green salsas served on the side.
Three eggs served with homemade, toasted bread.
Spinach Mushroom and Provolone
Bacon, Green Onion and Cream Cheese
Ham, Hash Browns and Swiss
Chicken, Bacon, Pesto and Smoked Gouda 
Sausage, Green Onion, Tomato, Cilantro
and Pepper Jack Cheese
Fresh Fruit 
Blueberries, Blackberries, Bananas, Raspberries, or Strawberries.
Sausage 
Pork patties or maple turkey links.
Granola & Berries 
With yogurt or milk